The original DotA kicked off the MOBA craze way back in 2003. Since then, most of the big names in gaming have leant their talents to the genre in one way or another, but just a handful of them have managed to go the distance. From absolute juggernauts like League of Legends to newcomers like Pokemon Unite, here are the ten best MOBAs that you can play right now, across PC, mobile, and console.
10. Vainglory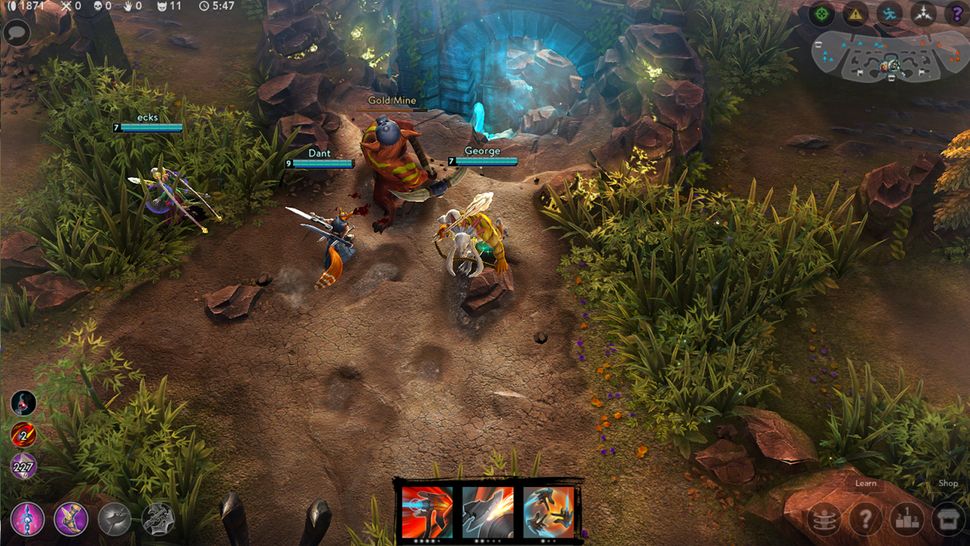 Vainglory has been earning its spot on this best MOBA list ever since its release in late 2014. It has the elements you've grown to love from MOBA games, but there's a series of interesting additions along the way. First off, it offers cross-play between Steam and mobile devices. This is important, since it nails delivering the thrill you would expect from a MOBA on PC on a smaller screen, and the sheer variety and character build opportunities lead to some interesting results. Features such as override, which allows you to unlock a modification of a skill once you have levelled it up fully in a match make a difference, and all champions have their unique flavour.
Available on PC, Android, iOS
9. Arena of Valour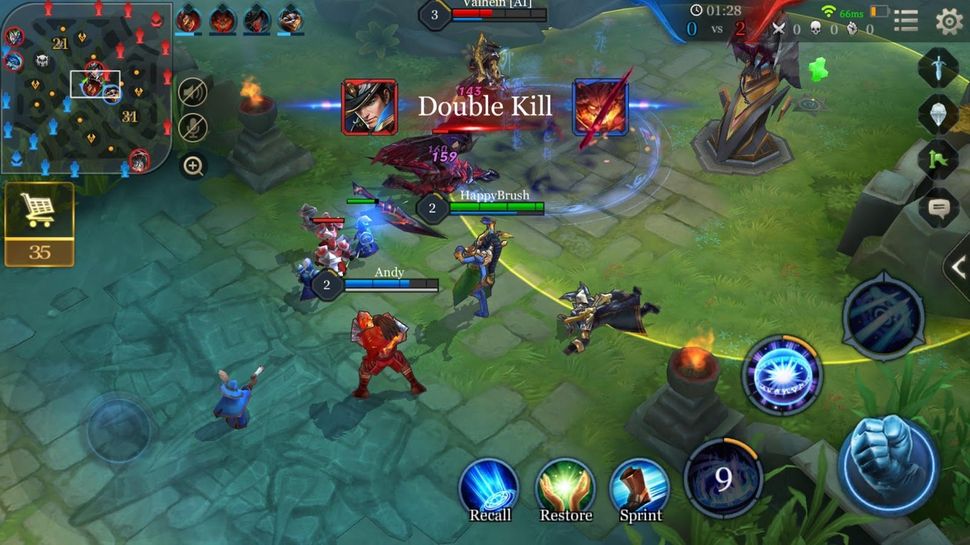 Tencent Games' Arena of Valor is one of the most popular MOBA games on mobile, and for a reason. It's not a game that stands out for bringing many new ideas to the genre, remaining rather straightforward and faithful to the prime foundation (although there are a few surprises such as having Batman as a champion). Instead, it focuses on delivering a polished experience for touch screens, as well as making the best use of the Joy-Cons on Switch. You can expect both 5v5 and 3v3 matches, as well as a long list of champions to choose from.
Available on Android, iOS, Switch
8. Battlerite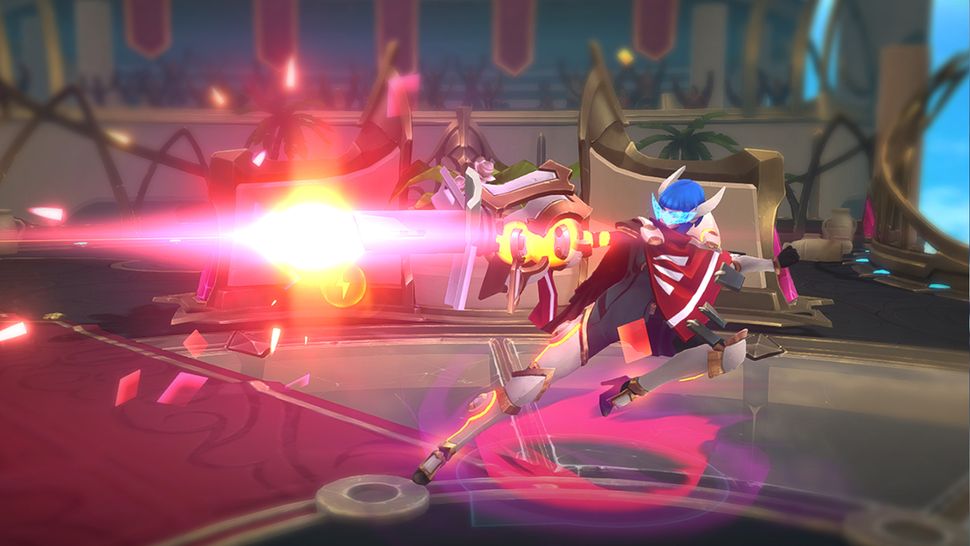 Battlerite might seem like an odd choice for the list, considering you're not defending or conquering bases. But in essence, and after the developers jumped from the iconic Bloodline Champions onto this game, there are many elements from the best MOBA games in here. It's essentially a team-based brawler filled with dozens of characters to choose from, a deep and precise combat, and the same intensity that makes encounters so interesting in your regular MOBA. If you're looking for something different that shares many similarities with the main genre entries, then Battlerite is the best choice, even if it's currently not as active as it once was in the past.
Available on PC
7. Awesomenauts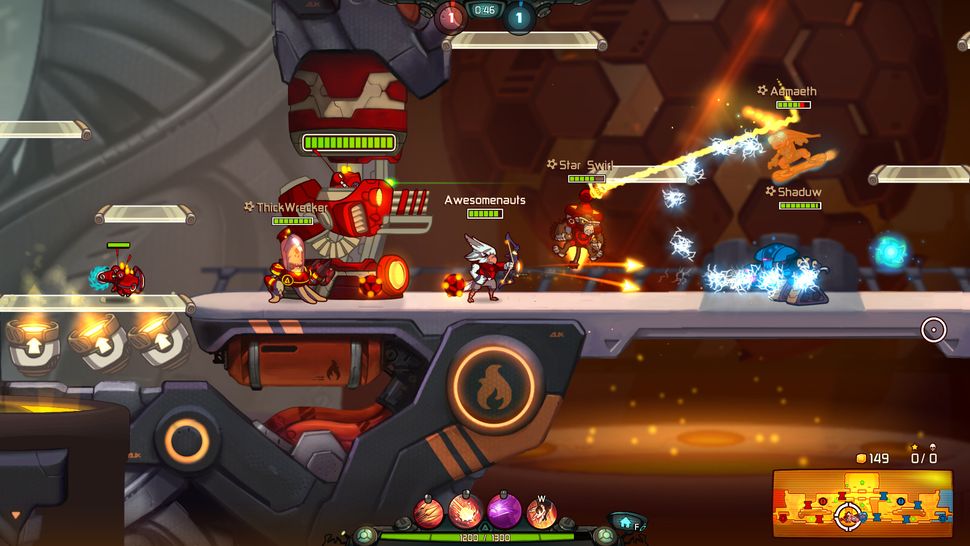 Ronimo Games released Awesomenauts back in 2012, and whilst it may not be the big MOBA it used to be, the premise and wonderful cast of characters still make for a worthy revisit or first visit altogether. It introduced itself as a 2D MOBA, where you pick up your characters and go through different objectives, defending your base and trying to score as many points as possible before the match is over. They can be exhilarating, often feeling more like your usual beat 'em up or 2D shooter than a regular MOBA, and that's where the biggest appeal comes from, especially for new players of the genre.
Available on PC, PS4, Xbox One
6. League of Legends: Wild Rift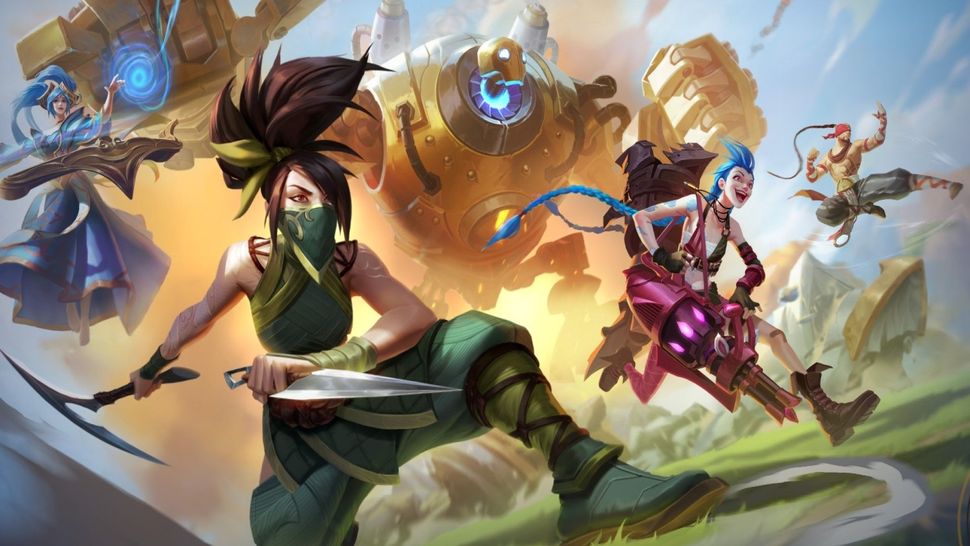 After almost a decade of clones, Riot has released its own mobile version of League of Legends. While Wild Rift is the real deal, coming direct from the main game's developers, it's also very much its own thing: Matches are shorter than LoL's, with Riot suggesting it wants the entire match – from clicking 'Play' to the post-game lobby – to last around 30 minutes; the game's roster is smaller than League of Legends', and while Wild Rift is catching up to its older sibling, some champs may never make their way to mobile; some gameplay features – like the map and some abilities – have been tweaked for mobile.
Despite the changes, however, Wild Rift is still an authentic League of Legends experience, with a burgeoning esports scene and plenty of Riot's cosmetic artistry. Currently available on mobile, there are plans for further console ports down the road.
Available on iOS, Android
5. Pokemon Unite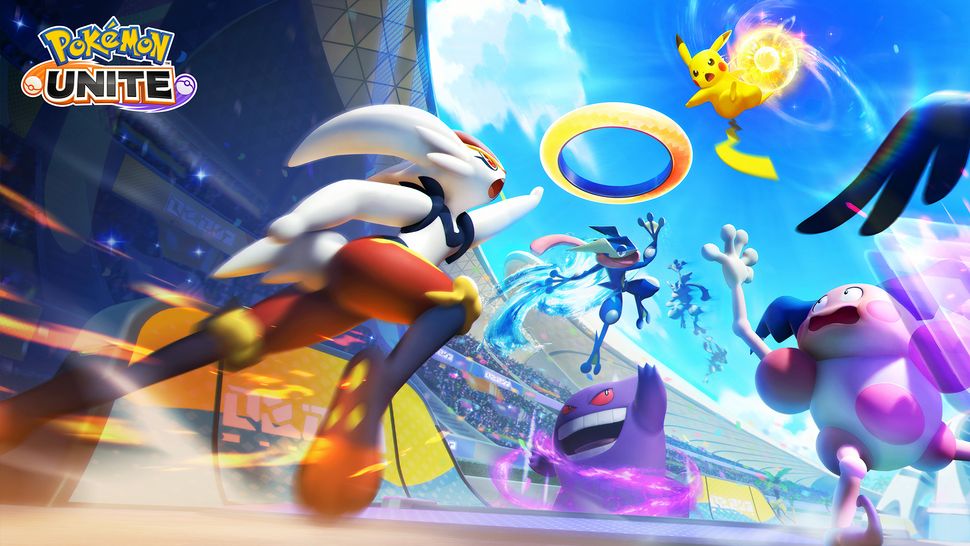 The Pokemon Company waded into the MOBA space pretty late with 2021's Pokemon Unite, but if you're looking for a slight twist on the familiar formula, it's a strong alternative. Rather than attempting to take down your opponents' base, you're aiming to score points by defeating wild Pokemon before banking those points on your opponents' side of the map.
A still-growing roster puts players in control of 36 playable mons, and means that you'll need to work out the pros and cons of your team, bearing in mind factors like type differences, and even the rate at which your chosen character evolves, gaining more powerful abilities as the game progresses. It's certainly not the kind of Pokemon game you might have grown used to playing over the years, but it makes for a fast-paced and surprisingly competitive MOBA.
Available on iOS, Android, Nintendo Switch
4. Smite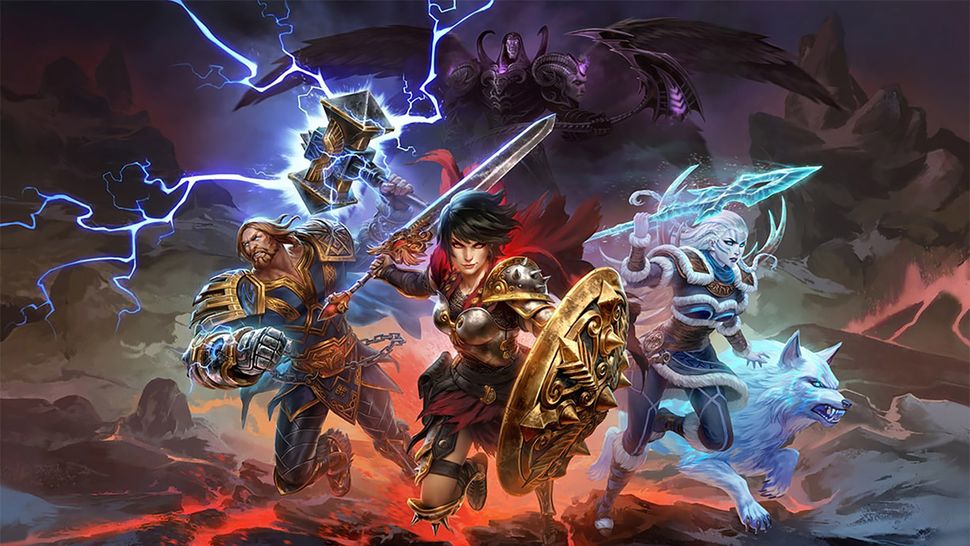 Smite is an interesting entry in this list, and a title that certainly knew how to stand out back in 2014. The essence of MOBA games is there from the beginning, but the key difference is that you're commanding champions – in this case, they are gods instead, from Zeus to Ra and Ganesha – from a third-person perspective. Each encounter with the enemy team feels visceral and tangible, and the extensive and varied list of abilities and powers to use in the battlefield make for some interesting battles and synergies to try out. Recent collaborations, including one with Avatar: The Last Airbender, really showcased how much there is still left to come, and its player base remains as big as ever.
Available on PC, PS4, Xbox One, Switch
3. Heroes of the Storm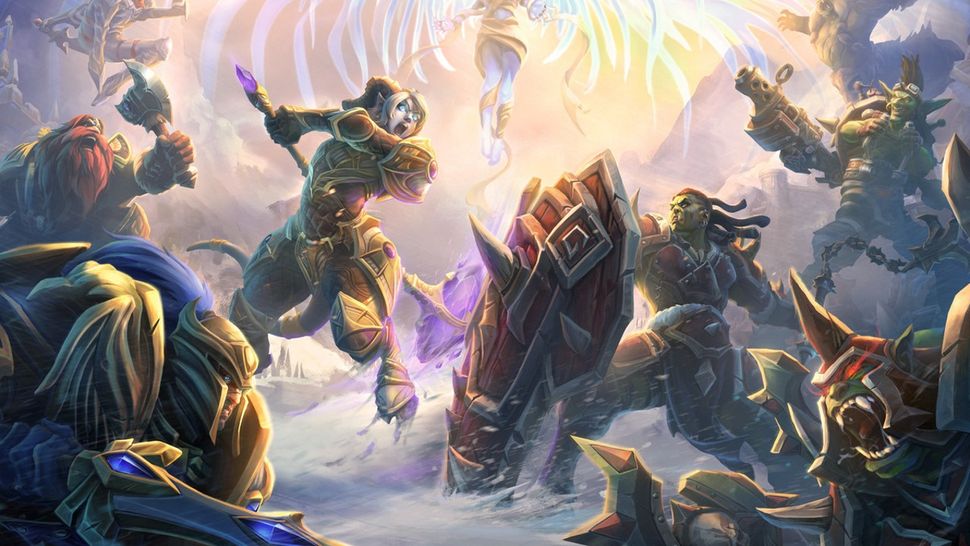 Blizzard released Heroes of the Storm back in 2015, creating a multiverse of sorts where some of the most iconic characters across franchises like Diablo, Starcraft and Overwatch joined forces together, and battled in all sorts of familiar maps and arenas completing objectives. The biggest highlight, however, lies upon the dynamic of each match. Ask anyone who plays MOBA games and they will tell you that teamwork is important. But here, teamwork is key to success. Activities from collecting gold coins and then making a deposit to summon cannons that damage the enemy base or using seeds to call a massive monster are only a few examples, and that's what makes this title so interesting, and different, from the rest.
Available on PC
2. DOTA 2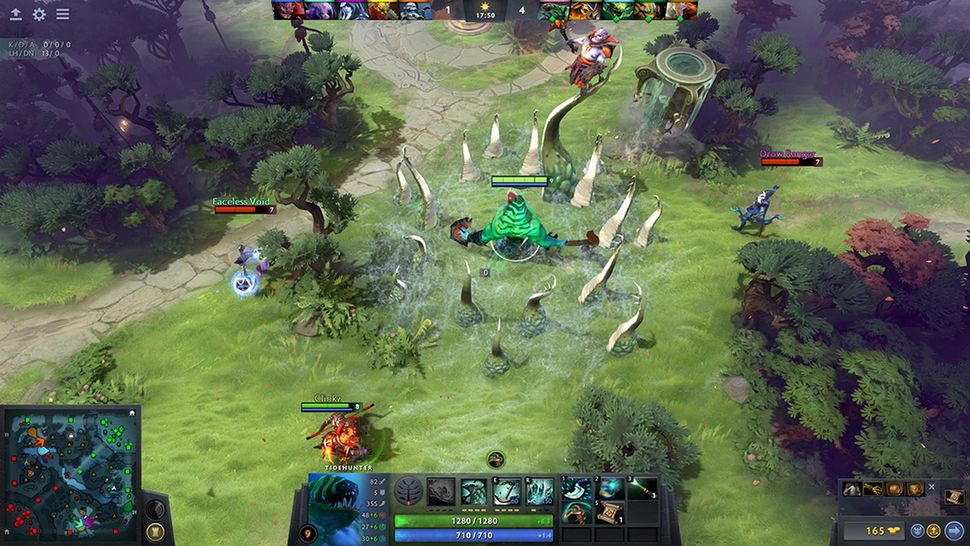 Technically the sequel to the proto-MOBA, Defense of the Ancients, Valve scooped up that original team and made DOTA 2 its very own. It's one of the more punishing games on this list due to the sheer depth of its mechanics, but that does at least mean it'll keep most of its fans playing for thousands of hours.
The immense community behind it can be found both on Steam's marketplace and all around the world with official tournaments. Details such as Announcers from games like Portal, Bastion, and Deus Ex, as well as a gigantic roster of champions to choose from make Dota 2 one of the pillars of the genre.
Available on PC
1. League of Legends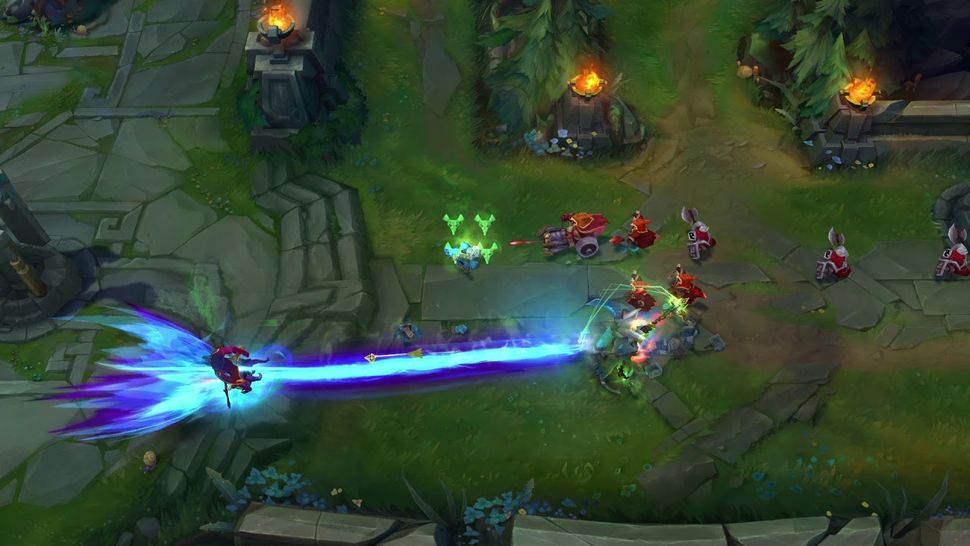 League of Legends might not have been the first MOBA, but it's certainly proved to be the biggest. More accessible than DOTA 2, and with a greater focus on its characters and their personalities, it's established itself as the definitive MOBA, especially if you're just starting out.
Played by millions every day, it's not only laid claim to its own genre crown, but has allowed developer Riot to expand in a suite of new directions. From the aforementioned Wild Rift, to spin-off games like Teamfight Tactics, Ruined King, and Legends of Runeterra, and even the acclaimed Netflix series Arcane, League of Legends has laid its claim to being the next multimedia juggernaut of the gaming world – and it all started from one humble MOBA back in 2009.
Available on PC