So, the Festival de Cannes is shutting up shop for another year and the TF crew are furiously packing our suitcases.
Mostly, we're wondering how we could smuggle our new feline friend – Le Chat Noir – back to Blighty with us.
Our fave film? For its sheer, opinion-splitting ambition, it has to be Terrence Malick's The Tree Of Life, although Almodovar's brilliantly twisted The Skin I Live In and Lynne Ramsay's chilling We Need To Talk About Kevin are close runners-up.
Biggest letdown? Probably Lars von Trier's Melancholia or Gus Van Sant's Restless – not bad films by any stretch, but disappointingly tame given the maverick nauture of their respective directors (whose previous Cannes offerings have been anything but).
Best celebrity encounter? Lots to choose from – no ash cloud keeping big names away this year – but we had fun wagging chins with Emily Browning, Mia Wasikowska, Roger Corman, Kirsten Dunst and of course Lars "I am not Mel Gibson" von Trier.
We also grabbed Ryan Gosling for a chat about Drive , the star telling us how he wanted to kiss Carey Mulligan and that his performance was partly inspired by Prince in Purple Rain .
A dude, in other words.
That's it from us.
Stay tuned to TotalFilm.com for all the winners from tomorrow night's awards ceremony, including this year's recipient of the prestigious Palme d'Or.
In the meantime, here's what we think will (and should) take home the top prize, along with our festival highlight…
Matt:
What will win the Palme d'Or: The Tree Of Life
What should win the Palme d'Or: The Tree Of Life
Festival highlight: The Tree Of Life
Dan:
What will win the Palme d'Or: The Tree of Life
What should win the Palme d'Or: Drive
Festival highlight: Snowtown
Rich:
What will win the Palme d'Or: The Artist
What should win the Palme d'Or: The Skin I Live In
Festival highlight: The electric atmosphere in the Tree Of Life screening – cheers, boos and all.
Cannes in Numbers:
Days in town: 12
Films seen: 42
Films per day: 3.5
Films fallen asleep during: 8
Interviews done: 32
Estimated miles walked during festival: 216
Parties attended: 11
Number of tweets about Jodie Foster's Beaver: 6
Number of innapropriate tweets about Jodie Foster's Beaver: 6
Drunk people trying to start ill-advised fights with Dan: 2
Number of meals eaten in restaurants: 24
Number of meals we cooked: 1
Number of people who told us they read TF on the toilet: 1
Number of times said person told us he read TF on the toilets: 40-50
Screenings thrown out of: 1
Cats adopted: 1
Day 10
Last night there was one movie that had everyone in the Palais pumped – Nicolas Winding Refn's Drive .
Ryan Gosling stars as the nameless anti-hero – a Hollywood stuntman by day and getaway driver by night who's set up by a pair of ruthless gangsters (Ron Perlman and Albert Brooks).
Bold, visceral and featuring a thumping '80s synth soundtrack, the film wasn't exactly what you'd expect to find in competition at Cannes.
But after the worthiness and heavy themes of films like The Tree Of Life and Melancholia , it made for a refreshing change.
Drive may not win the Palme d'Or, but it certainly won over the crowd, who laughed, cheered and applauded their way through every gruesome henchman-offing and spectacular car smash.
After that, we left the Croisette behind – but not very far, heading just out of town for a party to celebrate A Clockwork Orange 's 40th anniversary (and Blu-ray re-release).
We were greeted, somewhat unnervingly, by women in all-over body stockings, bringing to mind The Skin I Live In as much as Kubrick's monster-piece.
There was a Korova Bar too – albeit one serving Vitamin Water rather than milk.
The 1971 classic's leading man Malcolm McDowell was there (hopefully he didn't kick any tramps to death on the way home, a la Alex DeLarge).
But star of the evening was arguably the person behind the dazzling housefront-projected lightshow set in time to a techno-fied remix of the movie's soundtrack.
A very civilized affair – none of the old ultra-violence (though the codpieces were a bit of an assault on the eyes).
It was back to the Croisette this morning for the screening of This Must Be The Place , aka The One Where Sean Penn Wears A Fright Wig.
He's got the lippy on too, playing a depressed retired rocker who leaves Dublin for America in the search for a Nazi war criminal.
As the synopsis suggests, Paolo Sorrentino's ( The Consequences Of Love , Il Divo ) film is a bit of an odd fish.
A tonally wobbly one too – it shifts from sitcom-light to harrowing Holocaust imagery in the blink of a mascaraed eye.
Penn reminds us that he can do comedy, though his character isn't necessarily one you want to spend an entire movie with.
Still, Sorrentino has an eye for images both slick and surreal – the Italian director finding particular inspiration in the great American outdoors.
We then moseyed on over to the Drive press conference to hear Refn and Gosling talk up their competition hopeful.
The banter was flowing well between the pair, who amused the room with tales of their "mental f***" from which the movie was conceived.
But the Danish director had no time for journos from his home country, who enquired about his finances and his response to countryman Lars von Trier's controversial comments ("repulsed" was his reply).
"Ah, you Danes," he sighed in frustration, before moving swiftly on. What is it with people and inappropriate questions this year, eh?
And that's your lot for now. Tomorrow is TF's last day at Cannes – stay tuned for our final thoughts on this year's fest.
Day 9
Today's early morning screening saw Euro arthouse legend Pedro Almodovar return to Cannes with revenge thriller The Skin I Live In .

Blackly funny and full of suspense, Almodovar's latest twisted creation put us in mind of earlier works like Matador and Tie Me Up! Tie Me Down!
It ranks up there with our favourite films of the festival so far.
And if the laughs and cheers in the audience are anything to go by, it should be a strong contender to take home the Palme d'Or on Sunday.
Almodovar and his cast were on hand afterwards to speak to the press, even if stars Antonio Banderas and Elena Anaya could barely get a word in edgeways.
He may have talked our ear off, but at least the portly Spanish auteur managed to avoid making any von Trier-style gaffes…
Speaking of Mr VT, we had a catch-up with the Danish controv-magnet following his scandal-sparking press conference. Read all about it here.
Meanwhile, the Droogs are in town… well, Malcolm McDowell anyhow, for the 40th anniversary of Kubrick's A Clockwork Orange .
We sat down with him, Kubrick's wife Christiane and her brother Jan Harlan (producer of several Kubrick movies) for a natter about the film's legacy and new Blu-ray re-issue.
Choice moment? Mrs K revealing how she "feels like crying" every time she goes in the Apple Store and sees all the tech the late Stanley would've loved to play with.
Come back for tomorrow for a report on the Clockwork Orange party – if we didn't hit the milk bar too hard, that is.

Film We're Most Looking Forward To Tomorrow: This Must Be The Place . Sean Penn rocking the fright-wig of the festival.

Quote Of The Day: "I would like to underline that I am not Hitler." (Lars Von Trier)

Number of cereal bars consumed in past two weeks: You don't want to know.
Day 8
Another early morning for the Total Film team, as we arose to to catch the first screening of Melancholia .

We bolted down to the Grand Lumiere to get our seats for Lars von Trier's latest Competition hopeful, stopping off only to grab a bit of brekkie from a famous fast-food chain (we're not proud, but it saved us from tummy-rumbling embarrassment in the cinema).
It may have run out of steam during the final hour, but von Trier's operatic end-of-the-world drama was stunningly shot and powerfully acted – drawing generous applause from the audience.
About as mainstrean as a von Trier movie is ever going to get, it was a far cry from the controversy stirred up by Antichrist at the 2009 festival.
But the director made up for that at the film's press conference, where his dark, dry sense of humour landed him in hot water with the press.
Digging himself into a hole while quipping about pornos and Nazism, Dunst looked as relieved as us when it was all over – describing the blunder-filled interview as "intense".
Leaving the broadsheets to furiously scribble their reaction, TF made our way down the Croisette to interview low-budget overlord, Mr Roger Corman.
He's in town for ace doc Corman's World: Exploits Of A Hollywood Rebel (whose director Alex Stapleton we also chewed the fat with).
For someone who's mentored everyone from Martin Scorsese to Ron Howard, Corman's a charmingly humble man.
And a true pro – he didn't get to bed until 3.30 that morning, yet was bright as a button.
This evening, we'll be mostly having a nose at some of the more colourful productions filling up the marketplace before queuing up for Ichimei – the in-Competition samurai drama from director Takashi Miike ( Audition , 13 Assassins ), which may or may not be in 3D (it's a source of much confusion at TF Towers).
Check back tomorrow for our reaction, as well as stories from our own adventure with Lars von Trier, who we're interviewing in Nice tomorrow afternoon. Wish us luck!
Film we're most excited about tomorrow: Pedro Almodovar's The Skin I Live In.

Quote of the day (well, last night): "Ah look, those guys are doing Tapioca!" (Rich confuses Brazillian martial art Capoeira with a pudding).
Number of people snoring in the Melancholia screening: One (sitting right next to us!).
Day 7
Viva The Beaver !
Ah, the fun we had on Twitter this morning with the ooh-er title of Jodie Foster's film.
It certainly made the queue for the screening go much quicker (well, that and Word Mole on the Blackberry – it's all about the critters today).
Screening out of Competition, Le Complexe Du Castor (as they're calling it this side of the Channel) is, of course, the movie where Mel Gibson cracks and can only communicate via a hand puppet.
Gibson is, of course, is the A-lister with the rockiest private life this side of Arnie.
Yet there was a warm hand for The Beaver when the credits rolled. Angry, sad, manic and confused, Gibbo's empathetic performance is possibly his best since Braveheart .
It's not as funny as you might expect a story about a man with a Cockney rodent on his arm to be, while Anton Yelchin and Jennifer Lawrence's teen travails run in awkward parallel to the main arc.
But Foster (who also plays Gibbo's wife) steers an efficient course through material that could've skewed too broad or too bleak. Her Beaver's pretty tight.
TF's other key film of the day was Le Havre , Aki Kaurismaki's first feature since 2006's Lights In The Dusk (which also screened in Competition).
Despite 'worthy' subject matter – the ill treatment of immigrants – the Finnish director's trademark deadpan humour is in full flow.
And why not? Kaurismaki's bone-dry wit prevents preachiness from scuffing this tale of a grizzled shoeshine man (Andre Wilms) who takes in a young African stowaway (Blondin Miguel).
Hardly radical or polemical, it thrives on a sure balance of artifice and sincerity – the applause-drawing ending mocks romantic cliché while glowing with warmth.
We also caught up with Snowtown actors Lucas Pittaway and Daniel Henshall and director Justin Kurzel.
TF met them in a light sunny Cannes hotel garden, making a nice change from the dark places we saw them yesterday, while viewing the disturbing Aussie thriller.
A trio of thoroughly talented filmmakers, they gave us the rundown on getting inside the mind of a serial killer, when castmates become family and the healing power of a good hug. Top blokes and an excellent, powerful film.
We urge everyone to go see Snowtown if you get the chance (you can read our reaction here).
Film We're Most Looking Forward To Tomorrow: Melancholia . Will Lars Von Trier's newie create a similar storm to Antichrist ?
Film On In Background During Writing Of This Blog: Police Academy . The original and least worst.
Number Of Wistful Thoughts About Tree Of Life : 176
Day 6
We're already at the half-way point of our Cannes sojourn, and the fest is showing no signs of slowing down…
TF stayed up past our bedtime last night to catch a late-night screening of tongue-twisty thriller (the sleep deprivation didn't help) Martha Marcy May Marlene.
The cast and crew (including star Elisabeth Olsen) took to the stage in their Sunday finest to introduce the film – a time-hopping study of a cult escapee haunted by her former clan.
Taut, compelling and featuring a standout turn from Olsen, it also boasts the most ambiguous/infuriating ending since Inception …
Alarms set for dawn, we successfully negotiated the apartment gate (still broken) to rush down to the Palais and join the queue for The Tree Of Life .
Showing to a packed-out Lumiere (people were literally fighting outside to get tickets), Terrence Malik's metaphysical opus was endlessly fascinating, visually stunning and more than a little divisive – just like most of his films, then. You can read our reaction here .
Unsurprisingly Malick didn't show up at the press conference that followed, but left us in the capable hands of producer/star Brad Pitt, who was on particularly witty form .
Playing a domineering dad in the film, one curious journo asked what his real-life parenting skills were like. "Oh, I beat my kids regularly – that seems to do the trick," he quipped. "And deprive them of meals."
After a quick croque madame (which sounds ruder than it ought), we headed to our second screening of the day, Et Maintenant On Va Ou? ( Where We Do We Go Now? ).
Despite being about Christian/Muslim tensions, if anything it's a frothier piece than writer/director/star Nadine Labaki's last comedy, Caramel .
The focus is on a group of Lebanese women attempting to curb the religious conflict brewing in their village.
Their methods are winningly unorthodox, building to a rowdy crowd-pleaser of a climax. Not a film that'll change the world (or step on too many ideological toes), but a pleasant diversion all the same.
After an afternoon spent on the Riviera with Elisabeth Olsen and her Martha Marcy cohorts ( you can read what she had to say here ), we hot-footed it across the Croisette to catch a screening of Aussie thriller Snowtown .
The film – showing as part of the Critic's Fortnight – is based on the real-life case of serial killer John Bunting, who murdered 11 people in South Australia between 1992 and 1999.
Taking the point of view of teenage accomplice Jamie Vlassakis, Snowtown charts the effect Bunting has on Jamie's world, and his eventual decline into depravity and murder. Click here for the full reaction .
Team Cannes' final screening of the day took place in a pokey press office – which was apt given the subject was the movies' king of thrift.
Corman's World: Exploits Of A Hollywood Rebel is an affectionate look at Roger Corman's life in schlock.
Endless big names pay homage: Martin Scorsese, Ron Howard, Peter Fonda – and the movie-stealing Jack Nicholson, who's by turns cheeky and weepy.
And with that, it's time for dinner. The fest continues apace tommorrow with the European premiere of The Beaver .
Will Mel Gibson brave the red carpet? Will the gate be fixed? Will we still be standing? Check back tomorrow to find out…
Film We're Most Looking Forward To Tomorrow: The Beaver .
Quote of the day: "Please stop talking – have some respect!" (Dan and Matt get a ticking off from an irate French journo in the distinctly non-silent press room).
Number of cats adopted by the TF household: One.
Day 5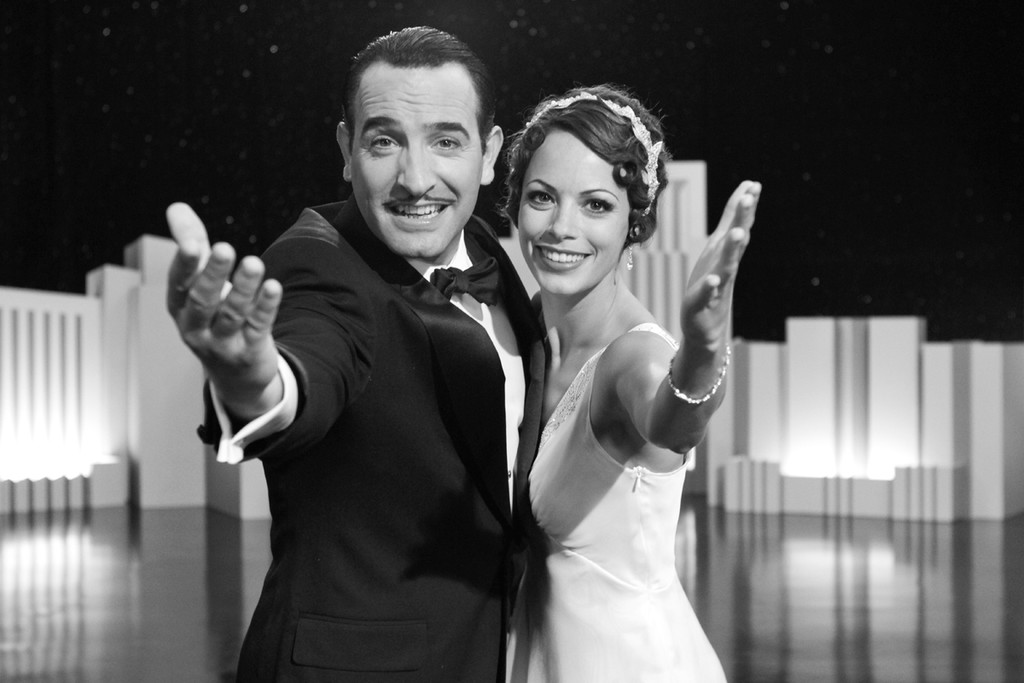 This blog almost didn't happen today thanks to a stubborn security system that wouldn't let us out the TF apartment block.
But with a little tenacity and a lot of help from an elderly French lady we made it to the Palais for an early morning screening of The Artist .
Michael Hazanavicius' film isn't your typical Competition offering; for one thing, it's a pastiche of silent cinema.
For another, it doesn't involve troubled/abused/abusive kids (an emerging theme this year).
Instead, it's an infectious confection about the rise and fall of (fictional) silent superstar George Valentin.
Jean Dujardin (of the OSS 117 franchise fame) exudes charm and knowing smarm in the title role, though it's all he can do to stop his thunder being pinched by an acrobatic dog.
There was a lot of love for it in the Grand Theatre Lumiere, critics casting their Sunday morning hangovers to the wind with thunderous handclapping.
Next we caught the somewhat more serious Take Shelter , from writer/director Jeff Nichols ( Shotgun Stories ).
It's almost a dark inversion of Field Of Dreams , with Michael Shannon driven by inner demons to build an underground shelter to protect his family from a supposedly imminent apocalypse.
There are some suitably nightmarish nightmare sequences, but the suspense is slow-build and all the better for it.
The only pity is it doesn't quit while it's ahead, tacking on an unnecessary coda that only ekes out the generous running time.
Still, Nichols is a talented and, as we discovered at the junket afterwards, thoroughly affable sort, as is his leading lady Jessica Chastain, who's also in town for The Tree Of Life (read our chat with her here).
We also popped Dep Ed Jamie back on a plane to London. He came, he saw, he bought us dinner. Respect, as the kids say in The Boy With The Bike .
Film We're Most Looking Forward To Tomorrow : The Tree Of Life . We'll risk being impaled on the apartment railings to see this.
Unusual Ice-Cream Flavours We Didn't Try Today : Olive oil, Cactus, Red Bull.
Quote Of The Day : Drunk guy talking to Dan: 'You're the Arnold Schwarzenegger of film reviewers!" You know who you are…
Day 4:
After last night's beach party that involved many a sandy shoe and plenty of free-flowing Stella, Total Film arose bleary-eyed this morning and hot-footed it to the early morning screening of Pirates Of The Caribbean: On Stranger Tides .
Emerging severely underwhelmed ( our sentiments pretty much echoed those of the Total Film review ), we bolted over to the film's press conference.
As expected, Johnny Depp stole the show – probably because 98 percent of the questions were aimed at him – but quote of the day went to Ian McShane (see below).
Next up was Chinese mystery actioner Wu Xia , screening out of competition in the uber air-conditioned Salle Buñuel.
We were expecting a bog-standard martial arts epic – what we got was a thrilling, beautifully shot mash-up of A History Of Violence , Sherlock Holmes and CSI – complete with the ickiest ear-slicing scene this side of Reservoir Dogs .
We barely had time to wolf down a quick pain au chocolat before heading to the beachfront to meet the cast and crew of Restless , including stunning rising star Mia Wasikowska ( you can read what she had to say here ).
We also spoke to the equally lovely Bryce Dallas Howard, who's taken a break from acting to produce the movie – along with, as she told us, a little help from daddy Ron (look out for more from Howard on the site next week).
The final screening of the day was Le Gamin Au Velo ( The Kid With A Bike ) – the hugely anticipated return of Cannes darlings the Dardenne brothers.
Happily, it's the sibs back on form after the relative disappointment of 2008's The Silence Of Lorna .
Fans of L'Enfant 's magnificent moped chase will thrill to the amount of bombing about the titular kid does on his titular bike.
Lean, urgent and touching, it drew the warmest applause yet from a Competition screening. Could the Dardennes make it a Palm d'Or hat-trick?
Film We're Most Looking Forward To Tomorrow: a tie between The Artist and Martha Marcy May Marlene
Quote Of The Day: "My sword is three times the size of everyone else's" (Ian McShane)
Number of dogs in pushchairs on the Croisette: One
Day 3:
"The big dog is in town… and he's ready to eat."
Brad Pitt? Sean Penn? Jack Black? No. Total Film's own deputy editor Jamie Graham, who's joined the gang on the Croisette for the weekend.
Think The Hangover, Part 3…
So, to business: the day began with a Competition screening of Nanni Moretti's Habemus Papam , a sly but gentle satire about a freshly elected Pope who's got new job jitters.
With writer/director Nanni Moretti playing a therapist called in to help, it's almost a Vactican version of The King's Speech – albeit with a surprisingly downbeat denouement.
Next up came a quick sojurn to a rather swanky looking yacht for a 3D tech presentation.
We felt a bit out of place, truth be told, but stuck around long enough to enjoy some posh nibbles and have a nose around the boat before making a quick exit (not forgetting to put our shoes back on on the way out).
The second screening of the day was Gerardo Naranjo's Mexican drama Miss Bala , screening in the Un Certain Regard section of the festival.
The bleak tale of a wannabe beauty queen dragged into the employ of a vicious drug cartel, the film was drawn-out yet frequently thrilling – long, ambling sequences permeated by vicious gun battles that knocked the stuffing out of us. Another bummer of an ending, too.
TF loves Kim Ki-duk ( Spring, Summer, Autumn, Winter… And Spring ). But we were a bit perplexed by his new film, Arirang .
A feature-length confessional in which the Korean director vents and rants and builds himself a gun, it's revealing in parts but stridently self-indulgent.
Better was final screening of the day, Hearat Shulayim , a tale of rivalry between two Hebrew University professors who are also father and son.
Once writer/director Joseph Cedar calls time on the split screens and quirky captioning, script and performances are given space to breath and bloom.
Film We're Most Looking Forward To Tomorrow: Le Gamin Au Velo, from the double Palm d'Or-winning Dardenne Bros .
Quote of the day (from a French lady we caught swearing like a trooper): "Oop, excuse my English…"
Number of somersaulting Brazilians during dinner: 4 – Matthew Leyland
Day 2
Big news first: the wi-fi's sorted in the Total Film flat! Also, we've seen some movies and stuff.
First film of the day was Lynn Ramsay's excellent We Need To Talk About Kevin – so riveting it made us regret even more that the Scottish director didn't get to make The Lovely Bones .
After that, we hotfooted it over to Gus Van Sant's new one Restless which, while no disaster, ranks as the first disappointment of the festival. We blame the toy xylophone.
Biggest appetite-whetter of the day was not the Expendables 2 poster, but 20 glorious minutes of JJ Abrams' Super 8 . Please let the rest be this good…
Starriest event of the day, meanwhile, was the Kung Fu Panda 2 press conference , which threw up possibly the question of the year (see below). For now, we'll give you a shard of Dustin Hoffman's diamond wit: "I've never met a panda I didn't like. And I've never met a panda."
Later, we sat down for a chinwag with director Paul Currie, who's about to lens 2:22, an air-accident thriller starring Armie Hammer, the two-for-the-price-of-one breakout star of The Social Network. Keep an eye out for it…
And keep 'em extra-peeled for last film of the day Polisse , a police drama that shocked, moved and knocked our expectations into a cocked hat .
Some more from Dustin, you say? Oh, go on then: "I had no idea inner peace existed at the Cannes Film Festival. Being this famous in front of all these cameras, sitting next to Angelina – it doesn't get much more inner than that."
Film we're most looking forward to tomorrow: Arirang by Kim Ki-Duk, the man who assaulted you with The Isle .
Question Of The Year (to Angelina Jolie, who graciously declined to answer): "How do you feel about the death of Osama Bin Laden?"
Number of French cats fighting in the Total Film garden: 2, possibly more. – Matthew Leyland
Day 1:
After more wi-fi troubles and a hot water-related emergency, Day 1 started with a first look at Shrek spin-off Puss In Boots (we snort-laughed at least twice) and a Q+A with its stars, Salma Hayek and Antonio Banderas .
The Desperado couple were on fine form, with Banderas joking his 3D glasses made his co-star "even more beautiful" and Hayek batting away a potentially offensive question about the troubles of aging in Hollywood with class and sass.
After the two were whisked away to pose for photographers atop a giant pair of boots, it was time for screening #1 – Woody Allen's gallic romcom Midnight In Paris .
Not exactly up there with the likes of Manhattan or even Vicky Cristina Barcelona , but it was certainly no Cassandra's Dream either.
Next came a mildly entertaining Paris press conference that saw Woody and his cast – Owen Wilson, Rachel McAdams et al – contending with some frankly bizarre questions (see below).
After an hour spent admiring some of the rubbish one-sheets lining the Croisette ( Hercules In 3D , anyone?) and supping a well-earned milkshake, TF joined the queue for screening #2 – Aussie drama Sleeping Beauty .
Featuring a brave (and potentially award-worthy) performance by star Emily Browning, Beauty was intriguing, uncomfortable and, for one particular TF-er, more than a little confusing (we're naming no names here).
Still, there's always Kung Fu Panda 2 tomorrow, right?
Film we're most looking forward to tomorrow: We Need To Talk About Kevin
Amusing question of the day (to a bemused Owen Wilson): "Woody writes such good parts for women, but you are a man. How did it work?"
Hitchcock-style pigeon attacks encountered: One. – Richard Jordan
Day 0:
The sun is blazing, the Croisette is buzzing and the Total Film flat is having hassles with its WiFi. Welcome to Cannes 2011!
For the next 12 days we'll be here, queuing and viewing, Tweeting and not sleeping.
The big question is: can the world's premier film fest regain form after a disappointing 2010?
All signs point to 'yes': heavyweight directors (Terence Malick, Lars Von Trier, the Dardenne Bros, Pedro Almodovar), no travel-disrupting ash clouds and head honcho Thierry Fremaux's assurance that this year will be 'very exciting'.
The screenings start with the debut of Woody Allen's latest, Midnight In Paris. If the film's as good as the cast is eclectic – Owen Wilson, Marion Cotillard, Michael Sheen, Carla Bruni – we'll be laughing.
We've also got a preview of Puss In Boots lined up. It's not all about the auteurs!
Film We're Most Excited About: The Tree Of Life (though we won't believe we're seeing it till we're actually in the cinema. And even then.)
Number Of French Cats Who've Given Us The Evils : 2
Favourite Typo So Far: "Robert De Niro has had a prolific career in motion pictures, staring in such films…"
He does stare, doesn't he? See you tomorrow… – Matthew Leyland
Number of cats adopted by the TF household: One.